Skip to main content
Search
Jobs
Life at Expedia Group Blog
Back to blog posts
Expedia Group's Month of Giving: Changing people's lives
Wan Nur Farihin Wan Rosli | Lodging Partner Associate II in Kula Lumpur, Malaysia
"Non nobis solum nati sumus.
(Not for ourselves alone are we born.)"
― Marcus Tullius Cicero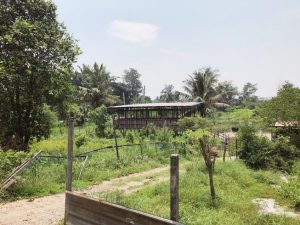 I have always believed that by simply helping others it can boost up your mood. I have also always believed that we are living – not just for ourselves but for others.
At Expedia Group, I have found the best platform to do exactly that. I have been on the Corporate Social Responsibility (CSR) committee for almost a year now and there is not a single day that I find mundane. From trying to promote conserving energy at the office to encouraging recycling, or even switching the snacks at the pantry from individual packaging to where we keep snacks in jars.
Last month, Expedia Group held the annual Month of Giving and Day of Caring. I would love to share how the CSR committee offered an opportunity for Expedians to spend their Sunday with elderly men living with HIV. They are being cared for by an amazing nongovernmental organization called Positive Living Community (PLC).
"The purpose of life is not to be happy. It is to be useful, to be honorable, to be compassionate, to have it make some difference that you have lived and lived well."
― Ralph Waldo Emerson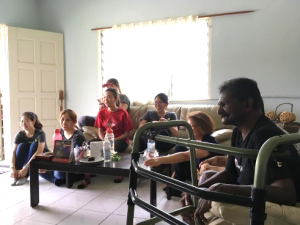 It was inspiring to see a group of people who voluntarily run this place and care for this group of people who have been rejected by their families or have become displaced due to their illness. The thing that touched my heart the most was to see how all these men work together to maintain their houses by cleaning, cooking, looking after their backyard tea garden, and taking care of a small lake where they rear ducks and goats. We were informed that they sell the tea leaves in an effort to self-sustain their organization while the ducks and goats are there to cater food for themselves.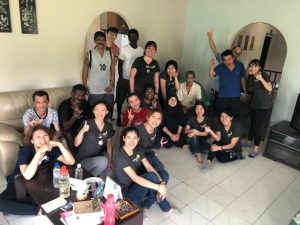 As an organization that has almost MYR 20, 000 monthly operational cost, PLC has been surviving only on voluntary donations and a small portion of profit from the health tea plant (Orthosiphon aristatus). I sensed a lot of love and sincerity from the residents, volunteers, and managers. Our group of 30 people from the Kuala Lumpur office came by a chartered bus and helped them by clearing out their tea garden for the day. We also went to visit a few of the houses where disabled residents were staying at and listened to their life stories. At the end of the day, the visit ended with a closing speech by the organization's manager, Sabina Arokia. Sabina mentioned how we have helped a lot in clearing out their garden and how happy the residents were to have visitors who listened to their stories and interacted with them.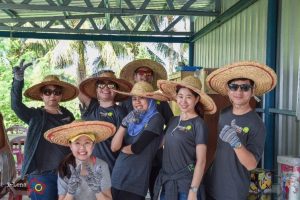 Expedia Group supports charity and volunteer work to help vulnerable groups, social movements, and/or environmental causes by matching our donations and volunteer hours. In one day, we were able to make a substantial difference, both in our volunteer hours and the money that Expedia Group donated to the organization. I am excited to see what our future plans in the CSR committee are to help this organization more!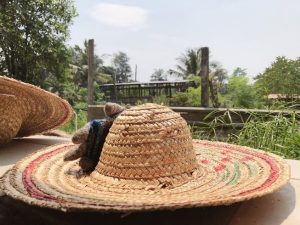 Although a day seemed too short to be visiting this place, we returned to the office late that evening feeling satisfied and excited to do more with our lives. We hope that with our meager effort in helping and visiting them, we made a change in their lives.
In the end, it felt amazing to bring smiles to people's face.