Skip to main content
Search
Jobs
Life at Expedia Group Blog
Back to blog posts
Vrbo Rebrand Series: Web App Team
What does it take to pull off a major brand refresh? A whole team of engineers, designers, marketers, and more! The Vrbo engineering team has been hard at work coding and testing to launch the new and improved Vrbo web app to coincide with the brand reveal. Three Vrbo engineers are detailing what went on behind the scenes to make the release possible.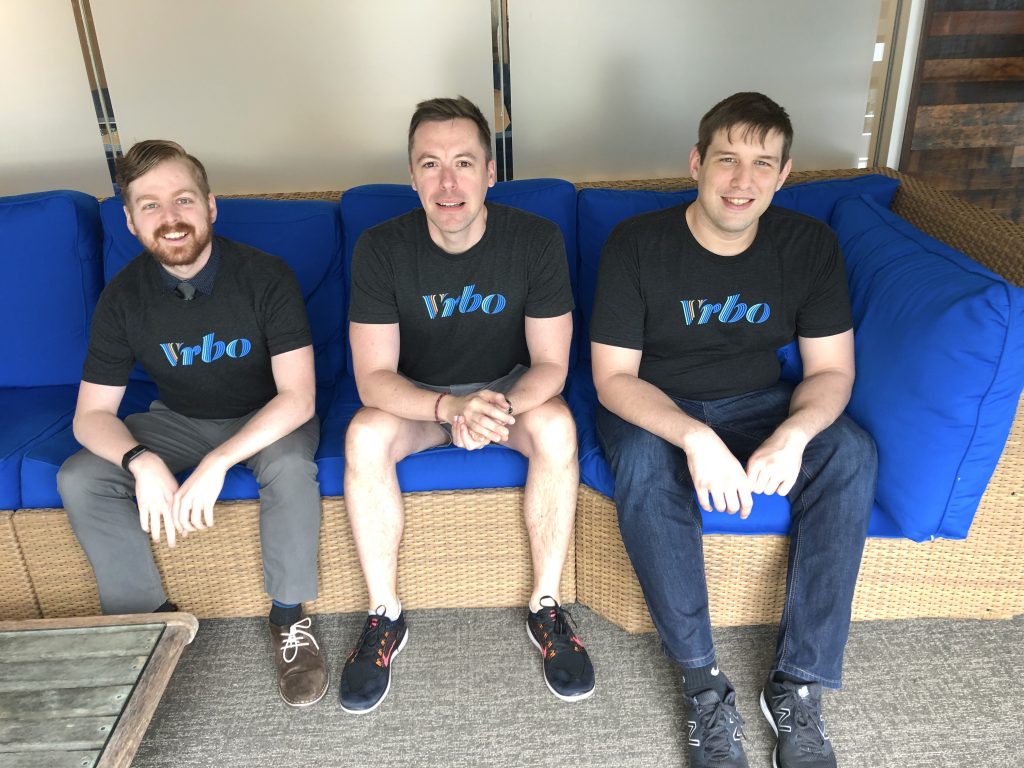 Martin Note, leading the UI Toolkit team, has been with Vrbo for over seven years and one of his main projects during the refresh was inspecting and updating the old code to get everything on brand and implementing the new Vrbo font.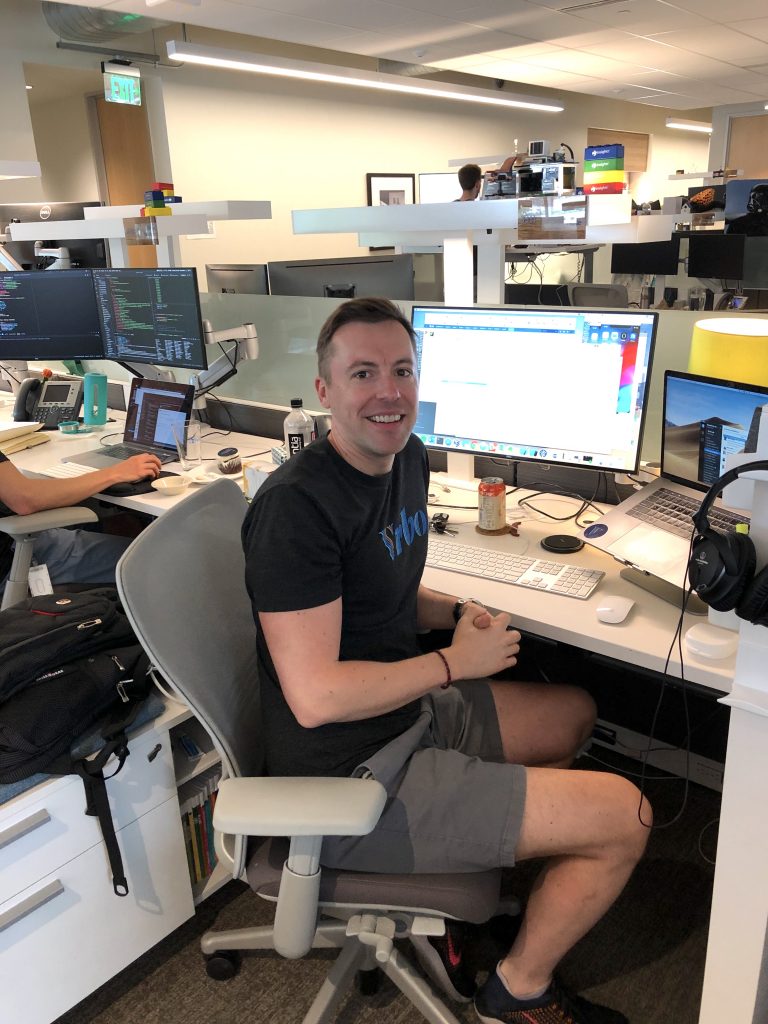 "Working at HomeAway I've heard a lot of "HomeAway what's that? Is that like Vrbo?", so it's fun and exciting to work at a company that people recognize what our product is. Also, as a former musical theater kid I love the new commercial!"
The Vrbo brand refresh gave engineers the opportunity to improve and "housekeep" things like font and style on the website.

"We commissioned a bespoke font (Freight Sans LF Pro) which we've never done before. Our family of sites share the same code base so we needed to make sure the typefaces had the same lining figures to avoid excessive overrides. Then, we essentially had to reverse engineer what Google Fonts does and apply it to our own product to host and load web fonts in a performant manner." – Martin N.
Bongo Russom, Software Engineer, said his biggest takeaway from the refresh was being able to look at Vrbo holistically and test the site as a whole to discover areas of friction.

"A good example of this was the social sharing link preview images. Previously there was no standard for social sharing links for our applications. One of my teammates pointed out that there were instances in which the old Vrbo logo was displaying in poor resolution. I worked with Martin (who really did all of the heavy lifting) to come up with a design for better images to use for social sharing." – Bongo R.
Throughout the refresh process, employees from all areas of the business came together weekly for "testing DoJos" where everyone would get in a room and actually test the site. With a step-by-step guide, they'd test specific tools and practice booking a property as a traveler would.

"The testing DoJo was the first time in awhile we could all get together and test things out as a whole. The refresh inspired us to schedule more testing meetings across all the teams and start discussions about looking into usability testing." – Bongo R.
Thomas Cardwell, Software Engineer, dove right in with the testing and recently booked a property in Barbados on the new Vrbo app!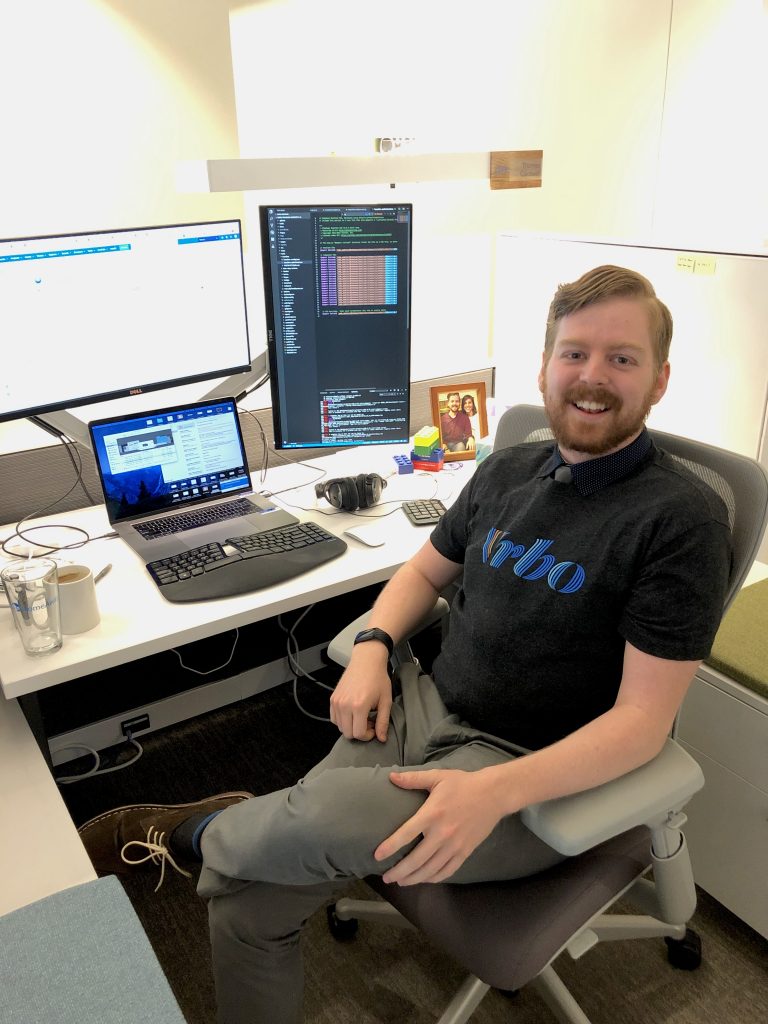 "My friends set up a Trip Board together (one of the new Vrbo app features) and we used it on Android and iOS so it was a real-life use case. They loved that we could comment and talk directly within the app about the properties and we even voted to decide on the house we booked. It was a cool experience testing out the app in real life!" – Thomas C.

The collaborative Trip Boards allows travelers to chat about specific rentals within the app. When launch day came around, the teams were excited to see these features come to life with just the click of a button.

"It was cool being in the office the night we went live and having a ton of engineers around pushing out the updates and the app. Leadership did a great job of prioritizing updates and releases so we didn't have to have every single thing perfect for launch day, we could continue to iterate in the coming days and weeks." – Thomas C.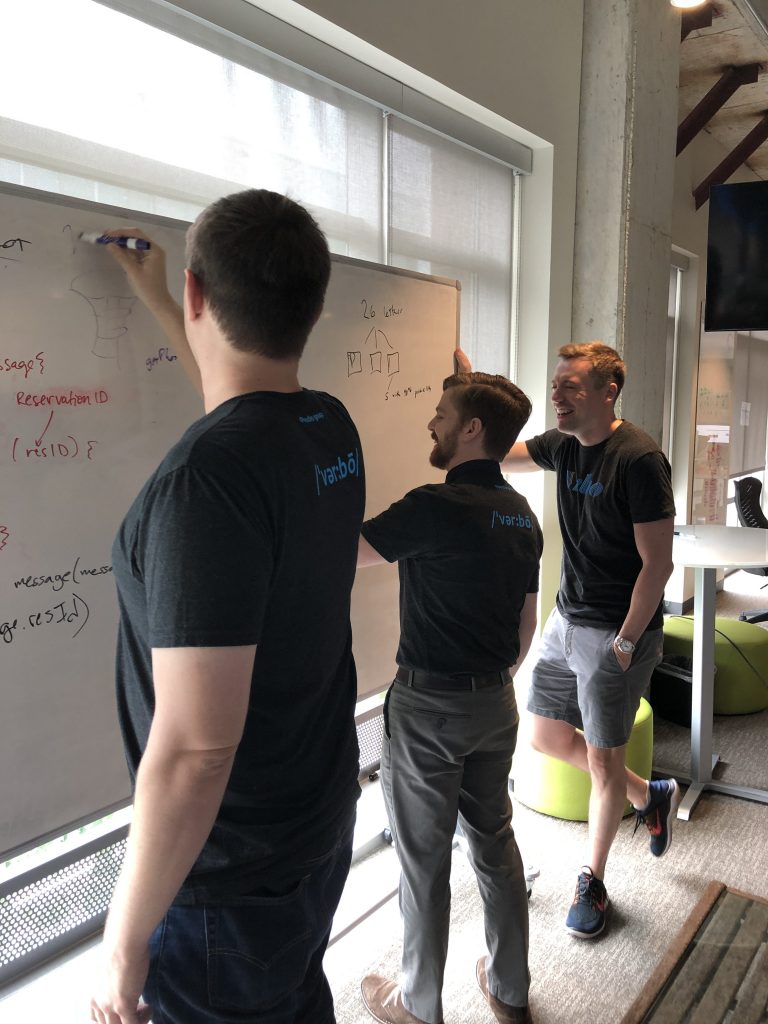 For all three engineers, this was the first time contributing to a major brand refresh and they all consider it something special to be part of.

"Working for a tech company for seven years, some people think that's a long time in the tech world, but I'm working on a product that I love with great coworkers and we're constantly adapting so I still love it!" – Martin N.

Follow Vrbo Life on social to learn more about what their teams are up to!