Skip to main content
Search
Jobs
Life at Expedia Group Blog
Back to blog posts
Software Development Careers at Expedia Group – Meet Anna
Between her full-time role as a UI developer, Code Nation volunteer, and her world travels, Anna is always learning and improving her life. She's been working at Expedia Group for almost five years, and has made self-improvement a priority in her life, whether it's personally or professionally. Continue reading to find out how she juggles everything, and manages to find time to snuggle with her cat!
What does your day typically look like?
I'm a UI developer currently work on a globally diverse engineering team. I'm based in Chicago and the rest of my team is spread out in Szeged, London and Amman so I take my "early" morning meetings online from home. In these meetings we go over what we've done the previous day, what we're going to work on and to discuss improvements and to breakout our project into smaller tasks to work efficiently. The morning is the best time for me to communicate with my team because of the time difference. Once their days are over, I will commute to the office to work at my desk. The rest of my day involves working on tasks that we've defined from my morning meeting, supporting others with pull request reviews and planning out patterns and best practices for our code base.
I also volunteer to teach coding to high school students in an after school program called Code Nation at a nearby school, so twice a week my day consists of an hour of sharing my knowledge of HTML, CSS, and Javascript to a classroom of students.
What is your favorite part of your job?
Honestly, I like the flexibility of work hours and work settings. I am not a morning person, so it is a great benefit to me that I can avoid that busy morning commute with stuffy trains full of people and work from home or a nearby coffee shop and then head into the office during a less crazy time.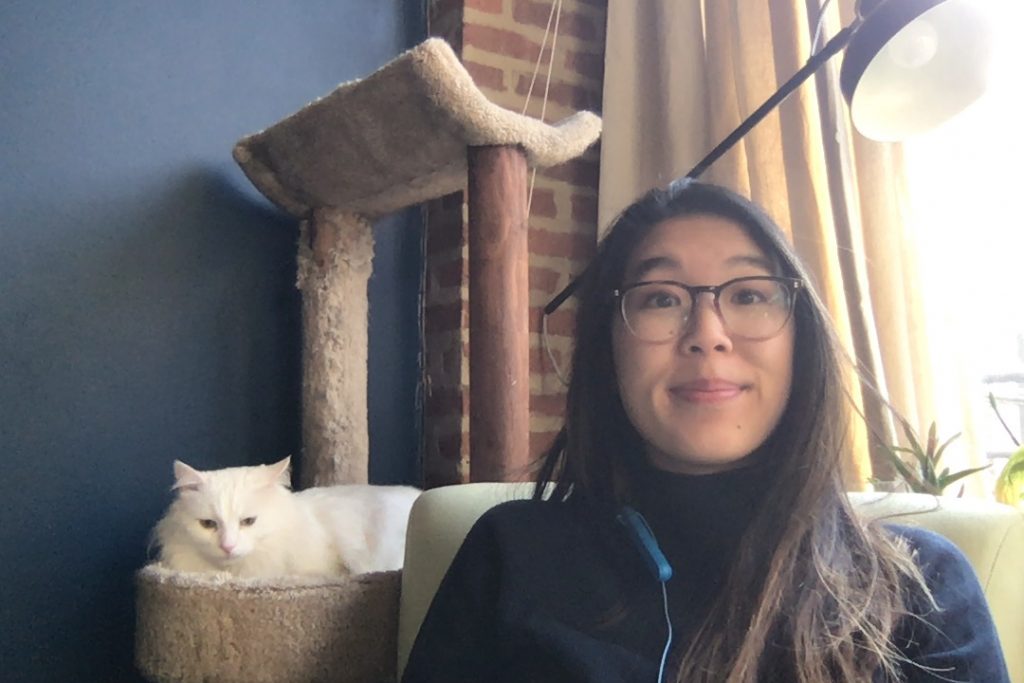 My other favorite part of the job is the diversity, I work with people all over the world and it's really refreshing and interesting to see all the different perspectives and ideas people have even though we all work on the same projects. Last year, I traveled to the Amman office to help onboard a team, and it was an awesome experience working from their office, I met so many great people and I ate so well.
What has been your proudest moment so far at Expedia Group?
My proudest moment is seeing people using parts of the website that I've worked on. I joined the company in 2015, as a fresh graduate straight out of college and was pretty sure I wouldn't be trusted to build anything widely visible and would work on hidden features, but today I still come across a page that I created from scratch on in my first few months here.
In addition, I worked on a team that got first place in the Brand Expedia Hackathon 6.0! Some other developers and I worked together to build a tool that would help people find accommodations after a natural disaster strikes by providing a streamlined and relevant booking experience.
What makes Expedia Group a great place to work?
Travel! I like working on travel because we make new experiences and the world accessible to everybody and it's something I enjoy doing myself. Expedia Group encourages traveling with an annual travel reimbursement as well as discounts, I love me some discounts. 🙂
Accessibility! Expedia Group takes web accessibility seriously and it's not something many people think about even though it includes a big part of our population. We create an inclusive and seamless experience for users by making our websites accessible to users with disabilities, it's easy to incorporate when designing, planning and developing and Expedia Group has annual trainings, a11y champions on each team, and a team dedicated to making sure accessibility is a priority. Disabilities should not restrict you from booking travel and experiencing the world.
Why would you recommend a career within your team?
It's made up of brilliant, hard-working people and you hope by working with them that it will rub-off on you. But also, we work on interesting problems, like have you ever wondered how we create so many diverse dynamic landing pages for destinations around the world, well, join the team and you will wonder no longer!
What are you most passionate about?
Personally, I am passionate about improving my life. Some might call me restless. I'm constantly re-arranging my apartment furniture, taking random fitness classes (currently learning Wing Chun), trying new foods, sporadically learning new languages and instruments, travelling for new experiences and downloading all of the self improvement apps on my phone (I just downloaded You Need a Budget and love it!)
Finally, what's your best piece of career advice for candidates looking to join Expedia Group?
Be open to learning on the job, you're not expected to know everything and don't be afraid to ask for help, but also don't just accept things the way they are, if you think you can improve things, do it!
—
Join our Talent Community
We're looking for outstanding talent to join us on our purpose to bring the world within reach. By joining our talent community, you'll have exclusive access to our latest opportunities, events, interview advice, and global insights from our Expedia Group leaders. Sign up now!