Skip to main content
Search
Jobs
Life at Expedia Group Blog
Back to blog posts
The Secret Life of a Travel Geek …narrated by an intern
Matei David | Software Developer Intern in London
It is not so often that you get to see the playground of tech geeks, much less ones that are passionate about traveling and real-life experiences. Contrary to popular opinion, a travel tech geek's life is not as glamorous as one might think. Drowned in coffee and sprinkled with burrito dust, you find the real essence of travel geeks: they get to work with exciting technologies to solve the challenges of travelers dreaming of their vacation. Luckily, I'm here to blow the lid off and introduce you to the (not really) secret life of a travel geek working at Expedia Group.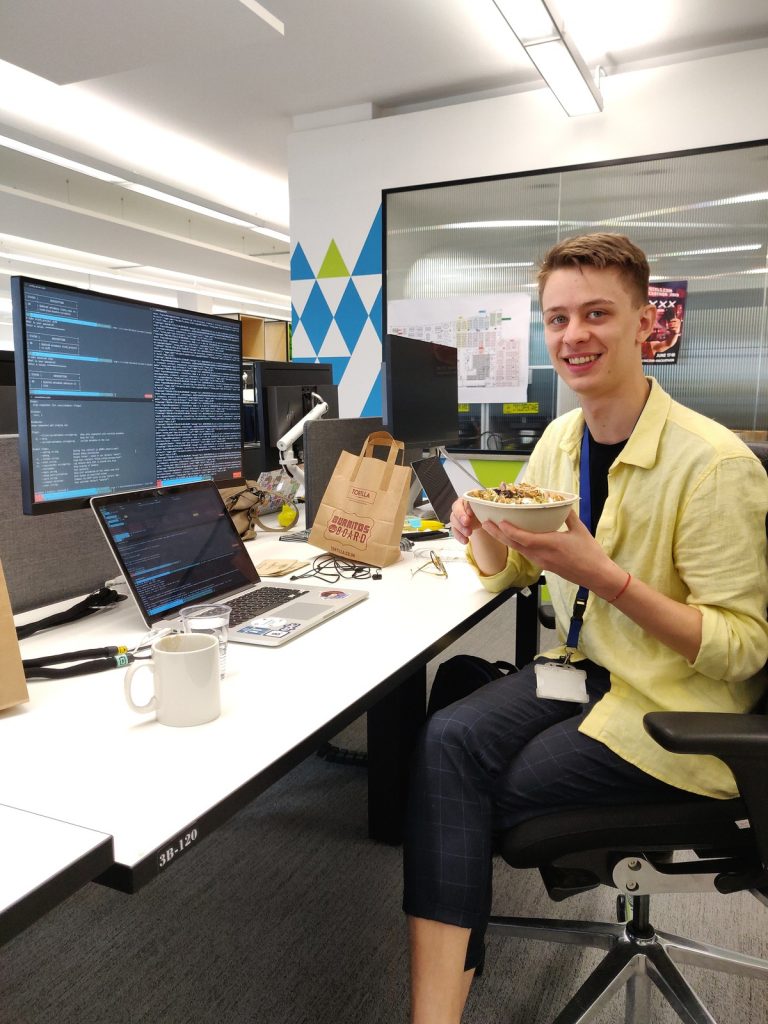 Setting the scene
But first, a little bit about me, the narrator: please read this in the angel voice of David Attenborough. I am currently a university student, doing an undergraduate in computer science. I am about to wrap up my year in industry before going back to finish the last year of my BSc. I joined the Expedia Group family as a Software Development Engineer intern 12 months ago, working for Hotels.com. The placement program works by choosing your preferred stream from a list of available teams, sometimes with an option to rotate. As a Software Development Engineer Intern, I got to work closely with my team and be immersed in hands-on activities from stakeholder meetings to software architecture.
I started in the platform pillar — a collection of self-sustained teams that work on the infrastructure of the Hotels.com website. I spent three months in my first team getting the basics down before switching to a development-oriented team where I assisted in building libraries for the other engineering teams. With three months left to go, I decided to rotate teams again and wanted to do something different, and so I switched to a team that handles the machine learning model deployment pipeline in the company.
What makes a travel geek?
In order to pull the curtains back on the secret life of a travel geek, I must first expose the geek itself. Some travel geeks love to quote sci-fi movies, others love to share with you research papers on the newest technologies. Most, however, love to take a break from the computer and enjoy the complimentary soft drinks over a quick PlayStation game and possibly some ping pong to exercise the stiff backs. Outside of work, it is not uncommon to find them in mild debates over-engineering best practices in the nearest bar to the office, bonding over fine selections of lager.
Travel geeks and engineering
You might be curious what engineering challenges a travel geek faces. In business as usual, creativity and thinking outside-the-box are going to be their most valuable asset to fix, mend and repair. Often they need to break the systems in order to reconstruct them and make them better. Solving problems was very much like a complicated 4D puzzle, where my team and I were given a blurred image of the final product. The pieces we had didn't fit so we would have to create them from scratch, and then put them together, with no blueprint and just a broad picture in mind. It's not easy, you work with other people's puzzle pieces, like legacy codes, and the pressure is on. I deleted something very important my very first week. I was paralyzed; but as I found out, geeks are very understanding. Patience, effort and a willingness to learn are the key factors to overcoming these challenges.
This takes me to teamwork. Geeks work great in teams, no doubt something they learned through simulations (i.e. hundreds of hours of online video games). Since the only thing they need is a device and internet connection, these teams are all around the world for full 24/7 efficiency. It was incredible to see the widespread network of our team, the instant nature of communication, and everyone speaking one language: Java.
Teams, rotation, and playground infrastructure
During my investigation in the life of tech geeks, I stumbled across some interesting cultural findings. I noticed that what everyone enjoys at Expedia Group is the wide expertise and opportunity pool – the diversity of skills and knowledge, however broad or niche, quirky or traditional, fundamental or futuristic, which is not only welcome, but encouraged. You have security experts roaming free amongst Java engineers and systems administrators.
One of the best things about the industrial placement is that you can rotate between teams to learn from their experience and work side by side with experts in the field. I joined the company in the Hotels.com platform pillar, a group of self-sustained teams that work to keep the website up and running. I rotated between three teams in these 12 months. First, I worked on provisioning and maintaining our clusters and infrastructure, built libraries for other developers and more recently, switched to a team that builds the pipeline for machine learning deployment models.
Over the past 12 months, I shadowed them and made my observations (they accepted me as one of their own!). I have discovered how encouraging and supportive all of my colleagues are, the emphasis they put on developing each other as professionals. They mentored me as if I was one of them, and they were quick to ramp me up even when I was out of depth. We worked with modern technologies and there was a unanimous desire to work on the latest, coolest things! I got my hands dirty as soon as my first week, and started working with tools such as Kubernetes, AWS and programming languages like Java and Golang.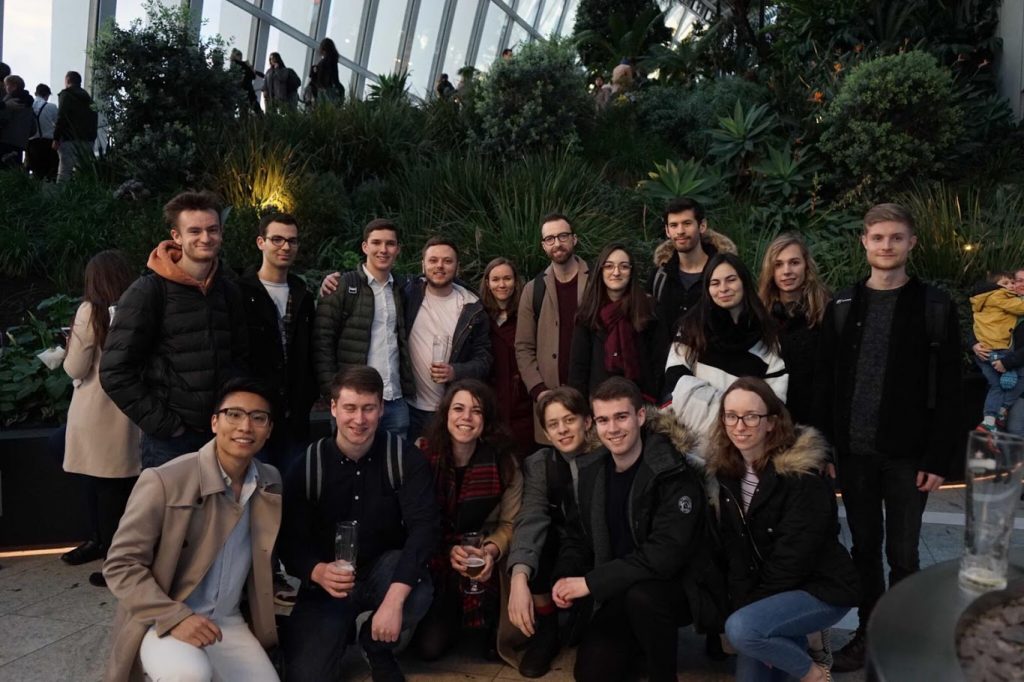 To travel, to work, to work and travel
The highlight of my 12 months has been to observe the travel geeks outside of their natural playground. Between company events, informal retrospectives in the pub and conference days, I had the chance to get a better look at their personalities and behaviour when not in front of a computer. Inclusiveness is the first thing that comes to mind, everyone is culturally aware and from a diverse background, I never felt out of place, and never felt like I am not part of the Expedia family. I got the chance to attend public speaking workshops, I was involved in an internal code academy – teaching Java to project managers and analysts, and by far the best perk, I got to travel to Budapest with the compliments of Expedia. Together with my team of seven, we went for a week-long training 'expedition'. I had the chance to meet our colleagues from Budapest, learned loads of cool stuff and got to sightsee and enjoy the city's scenic views (i.e. the bars)! What I've learned is that there is something for everyone.
Ending
The past year has flown by. I am always asked if it was worth it to take a year out of my degree and work. YES! DO IT! I had a sky-high learning curve, my confidence in my professional path went through the roof, I got to meet the most inspiring individuals and I would wholeheartedly recommend this to everyone. This year has been an eye-opening experience, and there is no other place I would have rather been.
Global Early Talent
Ready to kick start your career? Explore Expedia Groups' worldwide intern, apprentice, and early career opportunities. Learn More