Skip to main content
Search
Jobs
Life at Expedia Group Blog
Back to blog posts
Grace Hopper Speaker Spotlights: Mamtha Banerjee
Mamtha Banerjee | Senior Director, Technology in Bellevue
Mamtha Banerjee, Senior Director, Technology, at Expedia Group, is speaking at this year's Grace Hopper Celebration in Orlando. Catch Mamtha speaking about 'Concrete Steps to Tech Entrepreneurship' on Friday 4th October at 13:30.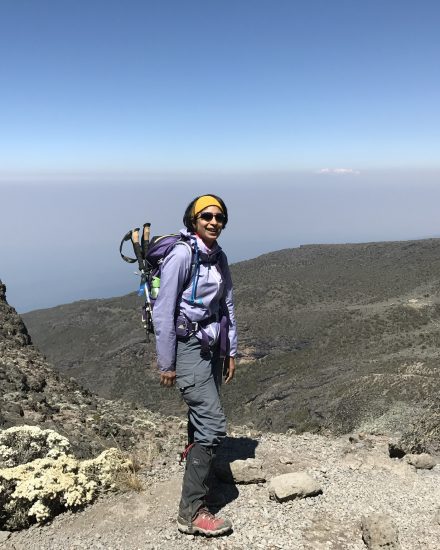 Please tell us more about yourself
I am a Tech entrepreneur and have previously founded 2 startups. After that I moved to Expedia Group to solve problems at scale on the Lodging Platform. I currently lead core applications and services on the Virtual Agent Platform (VAP). The Virtual Agent Platform provides conversational capabilities linking customers, travelers and partners from multiple channels like chat, email, mobile web and voice interfaces to intelligent virtual agents. I continue to operate in a startup mode and with a founder mentality – taking risks, challenging the status quo, running a flat org and hustling while remaining focused on results.
I believe that diversity enables teams to build superior products and achieve better outcomes. At Expedia Group, I have been fortunate to have engineering managers and directors on my teams who share this belief and over the years have consciously worked towards building more diverse and gender-balanced teams.
In my spare time, I enjoy reading, running, and have completed a few marathons. I also love the outdoors and have summited Mt. Kilimanjaro and hiked to the Everest and Annapurna base camps.
How did you get into the field of technology?
I have been interested in computer science since high school and opted for programming coursework in my junior and senior years. After an undergrad and masters in computer science I embarked on a career starting as a software engineer in downtown Chicago.
What is a typical day like for you?
My typical day varies based on the day of week, however, most days have a mix of the following activities – tech and design reviews, reviewing the execution and delivery of key capabilities, 1:1s with team members, mentoring and coaching, hiring, making strategic decisions, influencing peers, strategizing and thinking ahead. I like to keep Fridays meeting free to allow for deep and uninterrupted work.
Who is your female tech inspiration? What have they done to inspire you?
I am inspired by my friends and colleagues who over the years have become trailblazers in the tech industry both at Expedia and at companies like Amazon, Facebook and several startups. These trailblazers have also taken the time to consciously grow, mentor and influence the next generation of female technologists and entrepreneurs. #givefirst
What advice would you give to women who want to pursue a career in tech?
Technology roles level the playing field for women, especially when applied to other domains. There is such a wide range of opportunities, for example – tech in policy and government, health care, environmental sustainability etc. Counter to the common belief in the tech industry, I believe that tech roles are more friendly towards women than traditional non-tech jobs as they offer more flexibility, including options to take breaks and return to the workforce with minimal retraining. I would offer the advice to keep learning – as I believe that continuous learning is the key to a successful career in tech.
What is your talk at Grace Hopper Celebration about?
There is more to building a start-up and being an entrepreneur and it doesn't always start with a great idea as conveyed by Dilbert. 🙂

My talk is focused on demystifying the world of tech entrepreneurship. I walk through the life cycle of an early-stage start-up, juxtaposing it with real-world scenarios from my past experience. The session covers the following topics – understand how to use a business model canvas, conduct customer validation, identify metrics to gauge value, build a founding team, create a go-to-market plan, build and launch an MVP, evaluate funding options, evaluate accelerators and iterate on product-market fit. The talk also covers best practices, insights, founder traps, and do's and don'ts for founders.
What is your favourite Grace Hopper moment?
I was invited to speak at a few Grace Hopper Celebrations in India (2009, 2010) and have served on the jury for the Women's Entrepreneurship Quest. My favorite moments have been the interactions with the talented engineers at the conference.
Join our Tech Careers Community
Expedia Group's Career Community is a great way to learn about new opportunities and receive important job communications and updates. Sign up now!