Skip to main content
Search
Jobs
Life at Expedia Group Blog
Back to blog posts
'Leading through Allyship' Panel at Expedia Group London
After rave reviews from Expedia Group's keynote at Women of Silicon Roundabout London 2019 on 'Mindset Shift: Igniting Inclusion through Allyship', we decided to welcome attendees to the Expedia Group offices to continue discussions on the fascinating topic of allyship. This time focusing on 'Leading through Allyship'.
To begin with what is an ally;
'An individual that enjoys some privilege and is using that awareness to end oppression, create inclusion, and understand their own privilege.'
Rhwena Thomas, an allyship trainer here at Expedia Group and our moderator for the evening, reinforced that the key to being an ally is to take action. It is not good enough to say 'I am an ally'. You have to demonstrate behaviours and only by taking action will we see real change happen. Leaders can help in this journey by fostering an environment of inclusivity and allyship.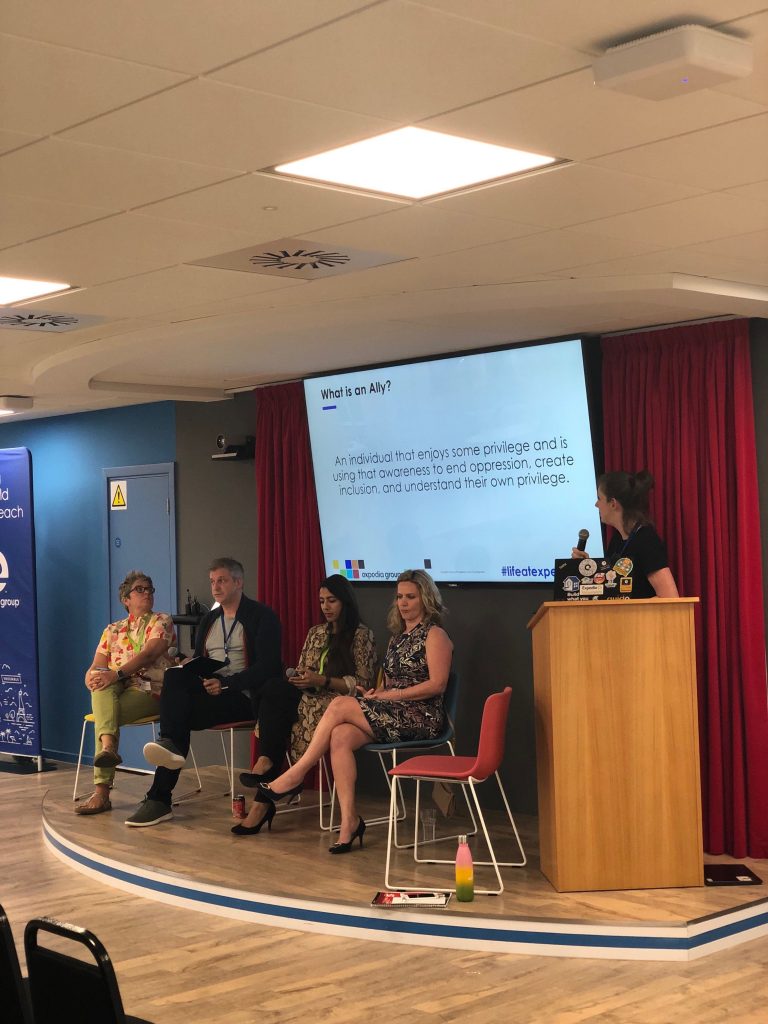 We were lucky to have a wide range of spokespeople on our panel;
Mandy Ayres, Co-Founder of Brand You: Sport and Shine4Women Leader, helps athletes to go on to second careers and trains women on leadership through her role at Shine.  She encourages everyone to 'remain curious and come with an open heart'.
Chris Burgess, VP of IT at Expedia Group, is on his journey with allyship. He transparently confessed he is still learning and making mistakes but is keen to use his position of influence to make Expedia Group a better place to work.
Taz Latif, D&I Consultant, has built a wealth of experience on this topic through building D&I strategy for start-ups across companies. She hopes one day she 'will be out of a job' as no need for D&I consultants.
Camila Kill, Senior Director, Expedia Group, has experienced biases in her career and at this point did not have an ally. She is keen to share the love and help more females in tech.
Allyship can accelerate culture change, but how? Mandy summed this up brilliantly – it is about people bringing their 'whole messy selves to work' and everyone feeling safe and encouraged to do their best work.
Leaders should become role models on how to act as an ally. They can set the tone for an organisation and others will follow. Why it is harmful if leaders set the wrong tone…  One of a leaders roles is to bring people on board for a mindset shift.
To be an ally you need to be curious and be continuously learning and asking questions. Taz as a Muslim encourages you to ask questions and learn about different cultures. And not to assume – just because one person you know from that culture does something it doesn't mean it is the norm and everyone will be the same. 
Everyone is on a journey. We don't all have answers. Have the curiosity to ask questions.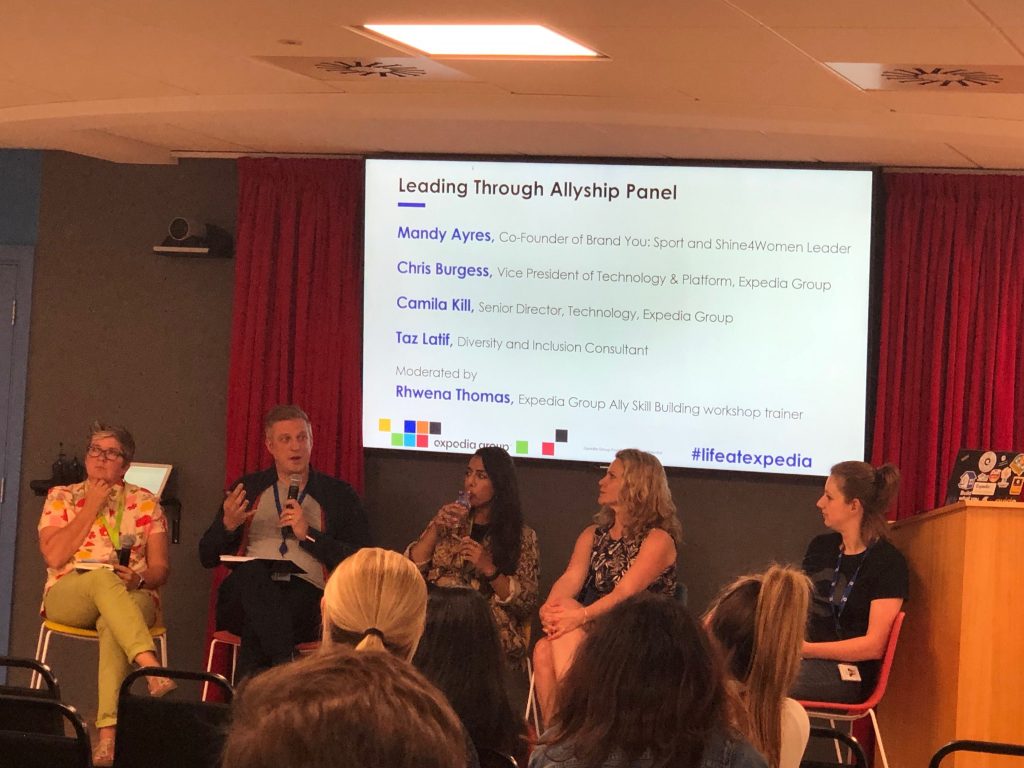 What I loved about this panel was the amount of practical advice our panelist's shared;
Understanding other people and accepting differences.  Taz shared an example where everyone in the team filled out a 'user manual'. People honestly shared preferences such as meeting times which helped develop a harmonious culture. 
Importance of D&I training for leaders so the mindset can be fostered through teams from the top.
Look for cost effective ways to liaise with communities. Such as lending your event space to communities. One of many advantages could be the growth of your talent pool.
Camila has fostered a more inclusive respectful environment in her global teams by when possible putting in meeting times that suit everyone's timezones and if not possible, varying meeting times. Leading by example here will encourage team members to do the same.
As a leader, pay attention to what you are seeing day-to-day. Are all team-building exercises in the pub for example? Suggest something different and more inclusive next time.
Find sponsorship and sponsor others. How do you get promoted when you're not in the room? Allyship is supporting people who are not in room and not being afraid to challenge. Be strategic and don't be afraid to ask people to sponsor you. Mandy pointed out working hard just gets you 30% of where you need to be, you need a personal brand too. Leaders like it when they are asked for support. 
Deconstruct your own privileges, Chris shared. 'You can't help others if you don't know your own'.
Call out any negative behaviour you see especially if you are in a position of leadership – it's not easy to call out micro-aggressions so practice with a close group and know that you will make mistakes. If you make a mistake, apologise and move on! As Mandy said 'Seek forgiveness rather than permission and jump in'.
At Expedia Group we take a 'bias to action' and are very lucky to have 3 training courses about Allyship which help people understand what their privileges are and how they can be an ally to others.
This understanding can be gained by curiosity, reading and asking questions. Taz recommended some great books to start us off with;
– 'Invisible Women' by Caroline Criado-Perez
– 'Why I'm No Longer Talking to White People About Race' by Reni Eddo-Lodge
– 'It's Not About the Burqa' – curated by Mariam Khan
Join our Careers Community
Expedia Group's Career Community is a great way to learn about new opportunities and receive important job communications and updates. Sign up now!