Skip to main content
Search
Jobs
Life at Expedia Group Blog
Back to blog posts
'My Vrbo Internship: The A to V'
Scarlett Placito | Travel and Partner Marketing Intern
Having a long summer break from Exeter University, I really wanted to make productive use of my time out and further my industrial experience in Marketing and the corporate world. The Internship application seemed daunting and the job pool extensive, but the opportunity to apply my degree topic to the dynamic Travel industry that Expedia presented made them top of my application list. Looking back, I could never have imagined the amazing experiences and learnings I would develop with Vrbo and Expedia Group in my 2019 summer.
I remember reading about Expedia Group and their Vacation rentals company, Vrbo, right before I applied for the Marketing Summer Internship when a quote stuck in my mind: 'It's about the journey as much as the destination'. Although this quote alludes to Expedia Group's mindset of ensuring top, consistent customers experience; I felt complete alignment to my own experiences within Expedia's culture.
From hitting that 'submit application' button, it wasn't long before my journey really took off. A week or so later I received an email invitation to complete the first stage of interviews. The following week, the Early Talent Recruitment Team reached out to inform me that they reviewed my application, were impressed and asked if I would be willing to interview for the Travel and Partner Email Marketing role as they believed I was a good fit.
To this I ecstatically accepted, and it wasn't long before I sat my final interview and was told the excellent news just a few days later – I was Vrbo's latest Marketing Intern!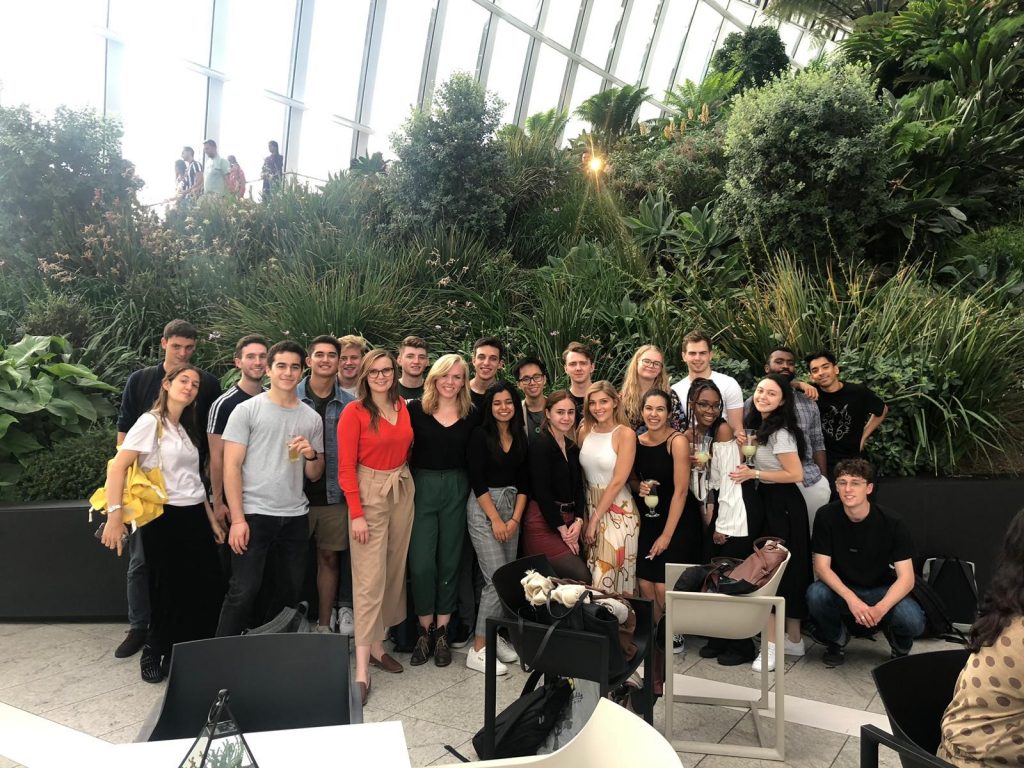 The months turned into weeks and weeks into days, and before I knew it – It was induction week. Immediately my nerves were calmed, and I felt reassured that I was in fantastic hands. As a parent company, Expedia Group really took all 43 London-based Interns under their wing and gave us a full week of induction talks, training and ice-breakers. Not only this, but we were lucky enough to experience some truly stand-out socials ranging from ping-pong battles in Bounce to cocktails in Sky Garden, to name a few. I felt like a valued member of the company from the start and adored kicking off my 2019 Summer by getting to know some incredible undergrads from all over the world, across 4+ Expedia Brands. These connections haven't wavered throughout the Summer, even with the distance between Vrbo's office in Victoria and the rest of Expedia Group based in Angel. The Early Talent Recruitment Team spared no effort to ensure we were constantly connected and involved through events, talks, and socials throughout the summer.
As for Vrbo, I could never have imagined just how welcoming, all-encompassing and educational my experience has been. Not only was I introduced and welcomed to the offices with open arms, but my team both here in London and in Texas have been nothing short of amazing. I am lucky enough to be one of two that represent Vrbo's first European Marketing Interns along with Stephen Situ, Database Marketing Intern, and my journey with Vrbo has flourished with Stephen sitting in the desk next to me. I also was assigned 'Buddies' – my go-to persons who helped answer any queries and guided me through the induction period, on which point I just wanted to say a massive thanks to Richard Collins and Alex Cox for being such a big help.
Being stretched across the Partner and Traveller email teams for Vrbo meant I had huge opportunity to delve into learning about both of Vrbo's customers as well as getting first-hand experience with systems understanding, editing email HTML and outlining email cycle stages to align with new strategies and KPI's. As a prime mover in the online vacation rental world, Vrbo is still massively adapting and changing with the times – changes I've loved working on since I started, including the build up to the brand integration from 'Homeaway' and subsidiary brands, to 'Vrbo', to Expedia Group's merger and beyond. It is this continuous strive for learning and improvement that taught me to never stop being a student and to take any opportunity that presents itself to learn and develop my skills.
In short, I've had an incredible summer. Vrbo and Expedia Group have surpassed all expectations and I feel I have made a real, actionable difference to my team's work as well as learning and growing with the Company. I hope to stay connected with the Interns and my Colleagues at Expedia Group and Vrbo and wish for a bright future ahead, safe in the knowledge my priceless learnings will path my successes back at Exeter as I embark on my final year studying Marketing and Management this September.
Thank you Expedia Group and Vrbo!
Global Early Talent
Ready to kick start your career? Explore Expedia Groups' worldwide intern, apprentice, and early career opportunities. Learn More