Skip to main content
Search
Jobs
Life at Expedia Group Blog
Back to blog posts
Software Development Careers at Expedia Group – Meet Rolland
A self proclaimed performance-tuning addict, Rolland Mewanou has grown his tremendous software development career in the 11 years he's been at Expedia Group.
Father of two kids and former teaching assistant, this Montreal-based Principal Software Engineer is not only passionate about football (American and European!), but excited to share his day-to-day experiences working at Expedia Group as well as his career advice.
What does your day typically look like?
Every work day is anything but typical for me, even if it sounds "cliché." I work as a Principal Engineer part of the Expedia Group Platform architecture group and as such I interact regularly with different teams, leaders and stakeholders across the globe.
Most of the time my day starts with a set of technical support related questions from colleagues in London and India on chat. After that, I check my emails and start working on my technical agenda items such as implementing and automating new features to help the company developers focus on business features implementation and not worry about the operational platform on which they're going to deploy their applications. Being part of a geographically distributed team, I'll usually have a stand-up before lunch time to provide updates to everyone and adjust focus and deliveries for the day if needed.
After lunch, I'll keep working on new automation features and if needed attend specific project/initiative meetings to provide technical opinion and guidance. In other cases, in a truly open/inner-source way, when I find issues in team applications/stacks, I'll jump in and fix these issues. All that while continuing providing tech support and guidance to teams over direct channels like Slack and email.
What is your favorite part of your job?
My favorite parts of my job are:
to develop and test new features that can benefit clients – in this case, "clients" usually means other groups or systems at Expedia Group.
to help team members solve technical problems. I enjoy optimizing and tuning application performance as well since for many years I was the technical lead on a service that takes considerable load and was running on generic computers in our physical data center. From that experience, I learned multiple ways to optimize a system and get the best out of an application as well from the available hardware.
to keep learning new things about the business and on the technical side every day I come to work. Since Expedia started its stack migration to the cloud, I get a chance to learn a new functionality or capability availability provided by cloud providers like AWS and others on a daily basis. On the business side, working with so many different groups on critical initiatives allow me to learn more about our organization as a whole and better understand the challenges these teams are trying to solve for the traveler interacting with Expedia Group sites and applications.
What has been your proudest moment so far at Expedia Group?
Last year, I was part of the Content team group that worked on building and scaling systems to ingest property and destination related information from suppliers and different sources at Expedia Group. My proudest moment was to be selected among my peers to represent one of Expedia Group's organizations as part of a small cross-organization team called Tiger Team. This team was built to exemplify what Expedia Group could achieve if all brands and organizations across the company were to work together efficiently and implement new features together instead of working in silos and/or building redundant features across the company. The Tiger Team also had the mandate to build some of the components of the new Expedia Group platform stack to lead and show the way for the company. The team members were nominated by their organizational leaders and it was an immense honor for me to be chosen to represent the organization.
What makes Expedia Group a great place to work?
There are so many things: the people, the mindset, the technical expertise, the passion, and last but not least, the different benefits (e.g. perks, compensation, etc.) and the leadership's will/commitment to keep working on making the company even a better place to work at for employees.
Throughout my 11 years working at Expedia Group so far, I have seen so many different transformations which demonstrate that leadership cares about the organization and are attempting to make things better in general for the end customer and also for the internal teams. I have met and worked with so many people from different cultures across the various office locations that I wouldn't change anything if I were to do it again.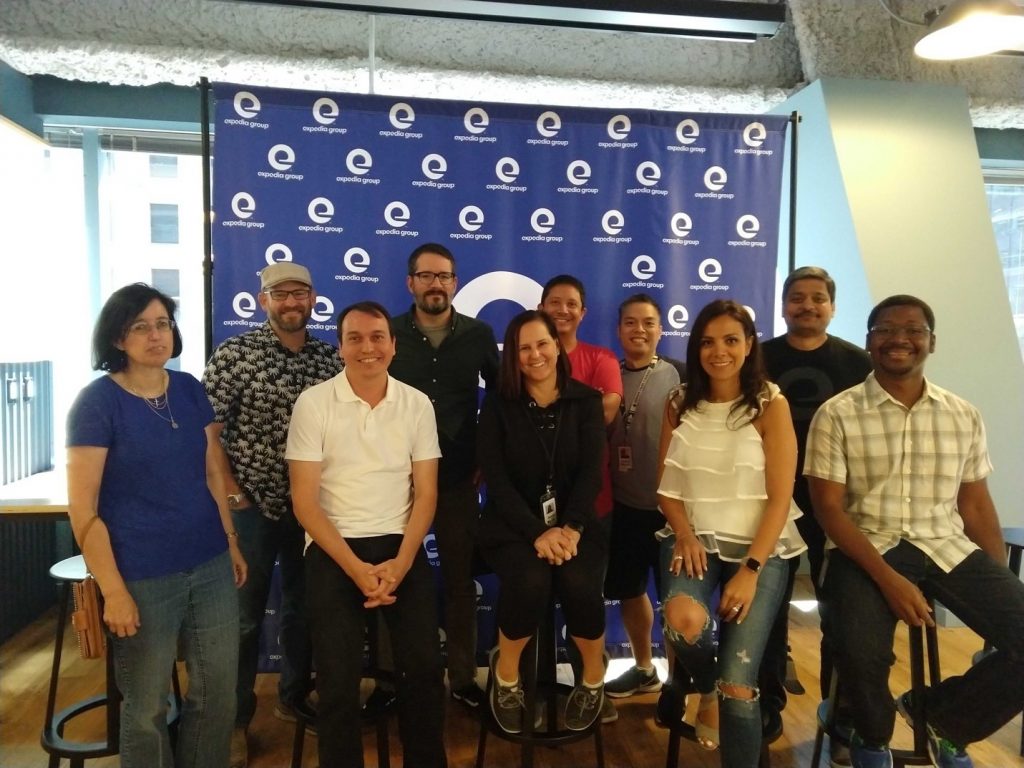 Why would you recommend a career within your team?
Any engineer looking to work with bright technical people, learn new technical skills (e.g. cloud based development, micro-services, machine learning, etc.) and soft skills while solving customer facing problems should think about joining. If you like challenging and evolving environments where most recent technologies get adopted and used on a regular basis, and if you like working in dynamic teams with agile process and methodologies, Expedia Group is definitely a place to consider and the company also invests in training and improving teams so… what are you waiting for?
What are you most passionate about?
Professionally, I am passionate about designing and implementing systems, tuning them to scale and making them more reliable, faster and more cost-effective overall. I am a performance tuning addict and I might sometimes focus too much on technical limitations and ways to overcome them. Apart from that I like compostable and disposable architectures in the sense that any piece of software that we build today will have to evolve or get depreciated in 2+ years as new features and solutions will be developed and be better at solving the same technical problems.
Outside of work, I am a huge fan of team sports like soccer, hockey, American football and basketball. I still practice soccer when I have a chance to and I play soccer video games at home every week. I also enjoy spending time with my family in the great outdoors whenever we can. Also, I have two kids who keep me busy outside working hours.
Finally, what's your best piece of career advice for candidates looking to join Expedia Group?
Be ready to work and learn at a fast pace as both our technical stack and requirements evolve along the customer journey. "Bringing the world within reach" for everyone means being open to diversity and adapt to the changing world and people. Collaboration is key and the ability to learn and adapt will be the most important factors to make your career and experience fun working at Expedia Group.
In addition, the best way to start and enjoy your journey at Expedia Group is to have and keep an open mindset about people and anything you'll do in the company every day. You'll have multiple opportunities to grow as a person and as an employee with the company so fully embrace it and get involved to improve yourself, people, processes and the technical stack so that ultimately the travelers benefit more from Expedia Group being a global travel company.
Join our Careers Community
Expedia Group's Career Community is a great way to learn about new opportunities and receive important job communications and updates. Sign up now!