Skip to main content
Search
Jobs
Life at Expedia Group Blog
Back to blog posts
Why I love working for Expedia Group
Antoinette Moliterno | Market Associate in Sydney, Australia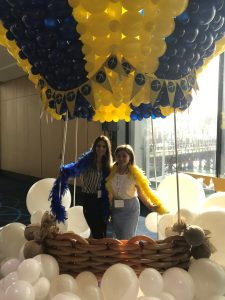 When I stepped through Expedia Group Sydney's doors as a University Intern in November 2017, I only knew that I wanted to work in Tourism, but had little idea of where or how I could fit into this enormous and booming industry. It didn't take long to realize that Expedia Group was the only place I wanted to be to launch my career, and I haven't looked back since.
Fast-forward a year – I've transitioned from Intern to Market Associate, settled into a new team, and spent the last six months dedicated to the Acquisition of Accommodation Supply and new Partnerships for our global marketplace. In that time, I've assisted in nearly one thousand properties going live – from luxury to boutique themed hotels, eco-lodges, retreats, glamping, and a wide variety of vacation rentals!
Each day, while not without its challenges, is rewarding and personally fulfilling both in the nature of what Expedia Group achieves as the world's travel platform, and the high energy that drives our internal operations. I go to work feeling incredibly lucky and proud to be an Expedia Group employee, and here are just some of my top reasons why…
1 ) The Expedia Group Culture – Expedia Cares
The culture at Expedia Group far surpasses any organisation I have previously been a part of.
Our leadership is committed to creating an environment that is positive, open, supportive, nurturing and also incredibly fun! From day one, I could sense a genuine family spirit and this has only continued to strengthen since. Our recently launched Guiding Principles not only perfectly captures the essence of who I felt we already were as a company but drives us onwards to always be the best versions of ourselves as individuals and a Group.
The company also demonstrates a true care for the well-being and work-life balance of its employees, both within and outside the workplace. We are given plenty of opportunities to pursue our interests and passions, whether that be in our own time (e.g. Travel!) or through our Corporate Social Responsibility (CSR) initiatives, Sustainability Committee, or Social Committee.
It's an amazing feeling to be able to go to work and be surrounded by so many like-minded people who thrive off each other and work together locally and globally towards one common purpose.
2 ) Change & Innovation
In my short time at the company, I've seen so much change – its one of the many thrills about being at the crossroads of the Travel and Technology industries. Our workplace is dynamic, stimulating and inspiring as we both ride the waves of change, and also invited to be the change.
I love knowing that there is always something new around the corner, something to learn, to innovate, to make the world of travel even greater – it never gets boring!
In our own corner of the business, I really believe in our ability to help our local lodging partners put their mark on the map and keep up with the growing online game. I'm proud to be apart of a team where innovative ideas are born at a grassroots level and allowed to develop and be shared on a much larger regional or even global level.
3 ) Learn, Grow, Succeed
With no prior industry experience, my first year at Expedia Group has been a huge learning and personal growth journey. The internship in particular was a leap outside my comfort zone, and I was challenged to develop skills from weaknesses, think critically, and ultimately path the way for a career ahead. From the outset, I've been empowered to take ownership of my roles and progression, given great freedom to own my projects with individual flair, and the opportunity to evaluate and redesign processes and tools for wider business purposes.
With this comes tremendous support from peers and managers who never hesitate to provide guidance, share in both successes and challenges, and assist in reaching our goals and ambitions.
While I'm only at the very beginning of what I hope is a long career in Travel, I really believe in a future at Expedia Group. There are seemingly endless opportunities out there in completely different business divisions, in locations all over the world. Right now, I love what I do, but I'm definitely excited to discover what possibilities lie ahead.