Skip to main content
Search
Jobs
Life at Expedia Group Blog
Back to blog posts
Live in Your Living Room: Vrbo Austin Edition
Our Expedia Group employees have been getting creative at home during quarantine! Our Vrbo Austin team planned an amazing "Live in Your Living Room" virtual concert that took place twice in April. The idea came to fruition after Andrew Geonetta, Sr. Manager, Technical Program Management, pitched an open mic night idea on an internal channel and the Employee Events team made it happen!

Andrew is a musician and had experience hosting an open mic night, so he kicked off the performances and continued to emcee the rest of the event. Our performers included Andrew, Mike Mears, Adam Luikart, Ryoko McKinnie, Kate Barnett, Tyler Kirk and Kate's boyfriend/quarantine crew member, Adam. About 200 employees tuned in to watch both virtual concerts.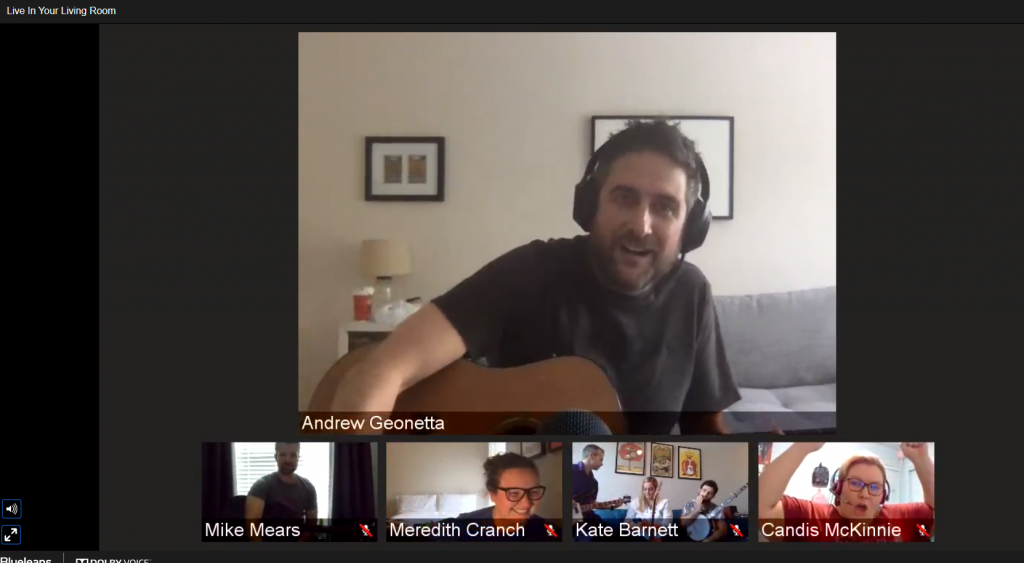 What instruments do you play? How long have you been playing?
Mike – Guitar; 25 years
Andrew – Guitar, Bass, Vox; 30 years
Adam – Bass; Guitar; Keys; 30 years
Kate – Guitar
Ryoko (Candis) – Flute
Bert – Piano; 10 years
How did you decide to play the songs you did?
Mike – Both were really about seizing the opportunity, taking control and making the best of any situation. Good topics for the current time.
Adam – I've been trying to learn one song from Pet Sounds a week to keep my mind off things (and take advantage of working so close to my instruments), so my first song, "I Just Wasn't Made For These Times", was just the Pet Sounds song of the week for me. The middle song, "Fortissimo", is one of mine I've never done with a band and as I've been toying with the idea of doing more solo stuff it seemed natural to dust off. My bonus cut, "Utopia Parkway" (thanks Andrew) is a Fountains of Wayne song I picked to honor songwriter Adam Schlesinger, who recently died from COVID-19.
Andrew – I'd been tossing around the idea of learning/writing some new songs. So I started by doing an exercise of turning a song I don't particularly like into something I do, and the other song was something I'd written recently and wanted to test out.
Kate Barnett – I chose the two songs we played at the request of my mom who was sick in the hospital with COVID-19 and pneumonia. She's always been my biggest fan and her only request from the hospital was that I play "Hallelujah" for her. She's now finally back home recovering after over 2 weeks in the hospital and I'm beyond thankful. My grandma is now in the hospital with COVID-19 since yesterday… I'm not sure our musical tastes quite align though.
Bert – "I Look To You" is one of my favorite songs because of its lyrics and message. When all hope is gone, when the melody within your heart is gone, I can look to "you" and find all that I need again. It's a message that resonates with anyone, whether the "you" is a deity or a loved one, whatever gives you inspiration. I also chose "Waving Through a Window" because it's one of the hardest musical theatre songs a tenor can belt and it shows off my range. I also find it relevant since we're all social distancing and tend to be waving through a window at other people.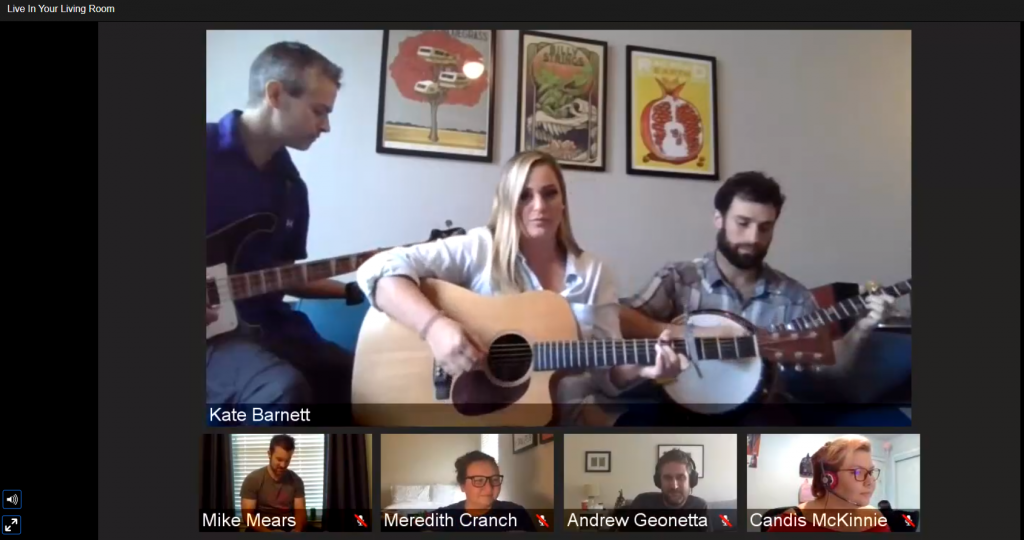 What's been the feedback like so far?
Mike – Over 3,500 views on LinkedIn after I posted it. I'm glad it has created such a positive response and seems to be a nice break for everyone during the day.
Adam – Really appreciated the kind words over Slack — some from folks in other offices I haven't kept up with well, some from coworkers I've never met before! Made my week.
Andrew – It has been really fun to have people be surprised and positive at seeing another side to the people who played. It goes to show that there's a lot of value in 'bringing your whole self' to work.
Bert – Feedback has been great! It's been nice to collaborate and support other artists in the company. All the Slack messages and BlueJeans comments have been greatly appreciated.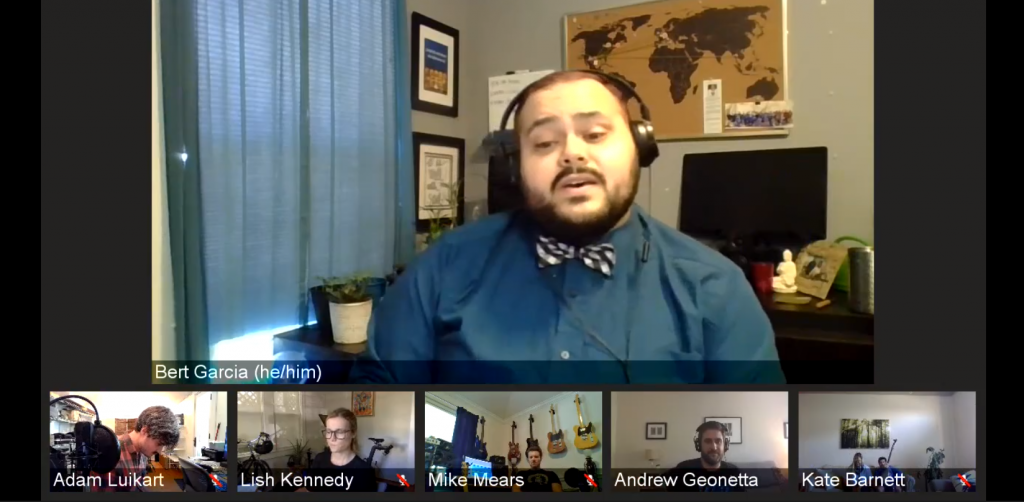 Links to the performances:
How did this improve your remote work experience?
Mike – It made me break up my day. Super healthy especially being at home and stuck in a routine.
Adam – I'm super grateful that the shift to remote work has allowed for a little more time and energy for music, which has been my #1 coping mechanism. And fun (and honestly also a little terrifying) to let colleagues see a different side of me.
Andrew – Having a little extra time to take a break and create something for the sake of being creative has been a serious gift in disguise. I spend a lot of time moving from thing to thing during the day, and this little break is energizing…and as Adam said, terrifying…all at once!
Bert – It helped add life to my daily routine. After working from home for over 45 days, they all begin to bleed into each other, so having special events like this really helped give me something to look forward to.
—
Join our Talent Community
We're looking for outstanding talent to join us on our purpose to bring the world within reach. By joining our talent community, you'll have exclusive access to our latest opportunities, events, interview advice, and global insights from our Expedia Group leaders. Sign up now!