Skip to main content
Search
Jobs
Life at Expedia Group Blog
Back to blog posts
Tokyo Rainbow Pride 2021
The Japan Inclusion and Diversity committee joined Tokyo Rainbow Pride 2021 on April 24th & 25th with Hotels.com's support as a part of 'Travel Celebrate Love' initiative. Its results were outstanding! This initiative achieved more than 30 coverages in top tier media including Newsweek, Jiji Press and Sankei News, where our LGBTQIA campaign like "Hotels.com Loved by Guests" awards implementing a new category for LGBTQIA was highlighted along with our site filtering option for LGBTQIA friendliness. We also collaborated with Japanese social media influencer PEEY for Hotels.com's "Pride & Go" giveaway campaign, where we achieved to increase the engagement rate up to 13% and view rate to 30% on Instagram. In addition, we achieved more than 1.37 million potential unique viewers on Instagram! The figures show the significance of attraction we gained from the public as we showed our support for LGBTQIA+ community.
As Expedia Group, we believe that raising awareness, promoting the importance of Inclusion & Diversity and supporting minorities are essential for creating equity. In order to do so, Japan Inclusion and Diversity Committee has been conducting various activities internally and externally – such as LGBTQIA+ panel discussion, affirming and signing on to support the 'Viewpoint for Marriage Equality', and 'Business for marriage Equality', which are lobbying to legalize same-sex marriage in Japan. And of course, we have been joining Tokyo Rainbow Pride since 2018. This year with COVID-19, this event shifted from to an online event where previously we marched in the Tokyo district.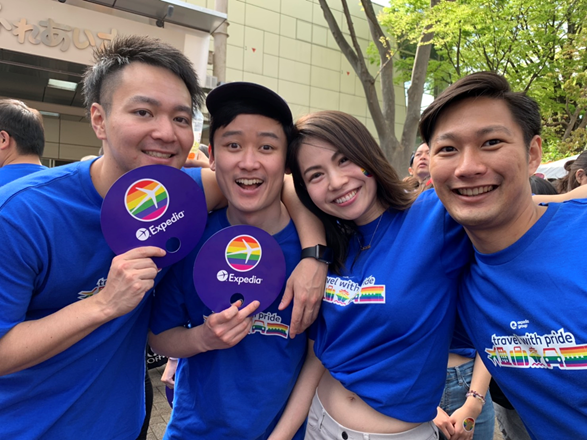 For all of us, the previous events had been a great experience with lots of fun moments and learnings. From helping each other in person during the event's preparation as well as the event itself, meeting and interacting with external visitors who were encouraged to celebrate and support the LGBT community through our actions. We felt many of the good experiences came from face-to-face communication thus we felt that it might be too challenging for us to have a similar impact by joining 'Online' Tokyo Rainbow Pride.
However, we came up with the idea of creating a zoom code for an interactive online booth with walk-in visitors. We were able to challenge a whole new idea because we are always encouraged to 'choose fearlessly' which is one of our Expedia Group values. We also hoped to utilize this opportunity to let the LGBTQIA+ community know that we have significantly increased the number of "LGBT+ Friendly" hotels listed on our sites.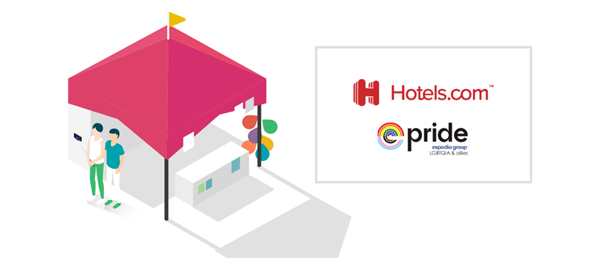 There were so many challenges when we were planning how we would run our Hotels.com online booth. Our primary concern was "what can we do online?" Although, Expedia Group has tens of thousands of employees across many countries, running an online booth was unprecedented. It was a whole new idea and there were many risks to anticipate however, we were very fortunate to have a company culture supporting our challenge.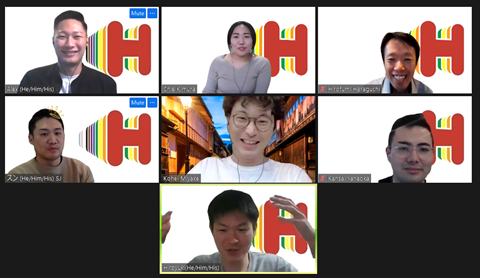 During the two-day event, although the number of visitors was limited, we were able to e-meet walk-in visitors, talk about travel, inclusion and diversity and learn their personal stories just like when we had 'physical' booth. Some of them spoke with our Talent Acquisition team and they were even interested in joining Expedia Group as future employees!
We also received positive feedback from the volunteers from the firm.
'My gay friend has not come out yet thus he had given up on joining any kind of LGBT related events in his life. I learned that Tokyo Rainbow Pride 2021 was online thanks to Inclusion and Diversity Committee seeking for internal volunteers. I was able to let my friend know that the event was online and he was able to join and truly enjoy Tokyo Rainbow Pride for the first time!'
'Living in Kyushu, it was a perfect opportunity for me to be a part of it for the first time since it was online!'
'I was joining the event from home, my children were interested. I had a great chance of talking about Diversity and Inclusion with them!'
As Japan's Inclusion and Diversity committee, we are so grateful to have a work environment where the company is supportive to our new challenge. We were able to make positive impact internally and externally and we would like to continue to do so!
__
Join our Talent Community
We're looking for outstanding talent to join us on our mission to power global travel for everyone, everywhere. By joining our talent community, you'll have exclusive access to our latest opportunities, events, interview advice, and global insights from our Expedia Group leaders. Sign up now!