Skip to main content
Search
Jobs
Executive Careers
Transformative technology for travelers,
by travelers
At Expedia Group, we take our people seriously. This is why we have a dedicated in-house Global Executive Search team that works across all brands and divisions to identify, attract and hire our Senior Director, Vice President and Senior Vice President talent.
We are your strategic partners who are committed to supporting you as you navigate Expedia Group and our executive opportunities, now and in the future.
Search Jobs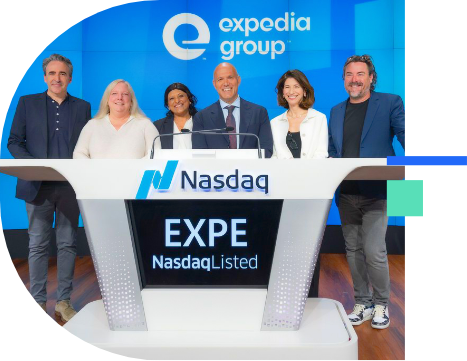 Building a more open world for
all travelers
We seek executive talent who will join us on our mission to power global travel for everyone, everywhere. You will be empowered to create belonging, connection and accountability, to truly transform travel technology, and the world, for the better.
To support this, Expedia Group has made commitments that will propel us forward on the path to progress. We want to create lasting change that helps create a more equitable world for everyone.
Our Impact
Meet our Expedia Group
Executive Leadership Team
BARRY DILLER

Chairman and Senior Executive

PETER KERN

Vice Chairman and Chief Executive Officer

JULIE WHALEN

Chief Financial Officer

ROBERT DZIELAK

Chief Legal Officer and Secretary
Learn More
Meet our Expedia Group
Travel Leadership Team
MICHAEL DAVIS VELASCO

Chief People, Inclusion & Diversity Officer

JON GIESELMAN

President, Expedia Brands

ARIANE GORIN

President, Expedia for Business

RATHI MURTHY

Chief Technology Officer and President, Expedia Product & Technology
Belonging, Connection &
Accountability
Our leaders create an open and welcoming environment where everyone can feel included, supported in their growth, and empowered to create boldly.
How We Do It:
Our Expedia Group Leadership Agreements encourage openness and transparency among leaders at all levels
Our Leadership training focuses on honesty and connection to create inclusive teams
Our Leader community provides ongoing development resources and support
EXPEDIA GROUP VALUES
Read Stories from our
Expedia Group Arrivals
Expedia Group Arrivals
Our Divisions
Expedia Group is building a single, best-in-class technology platform for the travel industry that fuels partner growth and success, while facilitating memorable experiences for travelers.
Our operating divisions set us up to drive EG forward by simplifying structure and aligning our employee skillsets. Supported by our corporate functions, these divisions allow us to focus on the work that will accelerate our Mission to power travel for everyone, everywhere.
Expedia Brands

Expedia Brands builds valuable, lasting relationships with travelers so they know, love and trust our brands. The team is fueled by creativity, marketing excellence, and innovation for travelers by travelers.

Expedia for Business (E4B)

Expedia for Business (E4B) manages Expedia Group's business-to-business (B2B) relationships. Expedia Group's B2B division offers leading-edge technology to businesses that expands their connection to the universe of travel. Expedia for Business covers an ecosystem of travel suppliers, organizations that advertise on the Expedia Group platform, and partners that are powered by Expedia Group technology. From hotels and vacation rentals to airlines, financial institutions, travel agents and more – this fast growing division helps partners deliver valuable services, build better traveler experiences, understand traveler wants and needs, reach new travelers, and drive performance.

Expedia Product & Technology

Expedia Product & Technology powers Expedia's Open World™ platform. This division creates accessible and equitable products and delivers quality experiences for travelers, partners, and developers.

Corporate Functions

Our corporate functions support our divisions in more ways than one. Through our Global Communications and Corporate Brand, Global Finance, Inclusion and Diversity, Legal, and People Teams, we are able to guide and back our operating divisions and Expedia Group as a whole.
Search Jobs
Join Our Career Network
Not ready to apply to an open position or didn't find something that fit? Subscribe to our career network, and you'll be among the first to know about new opportunities, and we'll share what's happening around Expedia Group.
Subscribe